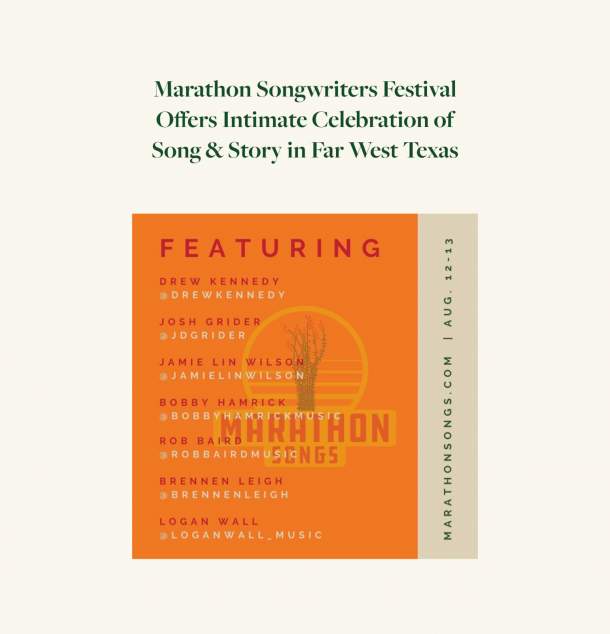 The Marathon Songwriters Festival offers an intimate celebration of song and history in Texas' Wild West
Far West Texas is a magical, transformative place for anyone who has ever witnessed it. Marathon Songwriters Festival brings performances from master songwriters in a breathtaking setting that captivates and inspires. The festival has just announced the lineup for this year's event, which will take place August 12-13, 2022 in Marathon, Texas. Limited tickets are available now.
Hosted by The Gage Hotel in Marathon, TX, the two-day event features performances by Drew Kennedy, Josh Grider, Jamie Lin Wilson, Bobby Hamrick, Rob Baird, Brennen Leigh and Logan Wall. Attendees are treated to intimate performances at the hotel, Gage Gardens and Marathon's newest attraction, The Brick Vault Brewery and Barbecue.
Each songwriter will perform a solo at a venue in and around the grounds of the Gage Hotel and the Brick Vault Brewery. Think of it as a unique opportunity for the songwriter and audience members to get to know each other, all surrounded by the beauty of the landscape. On Saturday, attendees can relax by the pool with DJ Josh Grider spinning some of his favorite deep cuts and beloved vinyl gems, followed by a release for the West Texas cloud enjoying for those interested – an activity so relaxing and awe-inspiring that it's also chronicled in song by none other than The Topo Chico Cowboys, a duo consisting of Kennedy and Grider themselves.
To close out the final night of the Marathon Songwriters Festival, each of the singer-songwriters will come together on a stage to bring the festival to its rightful conclusion – one big, fun and joyful shindig.
The Marathon Songwriters Festival is the brainchild of singer-songwriter Drew Kennedy and combines his love of great songs and the wide open. Kennedy's penchant for this particular region is further cemented in his upcoming ninth "studio" album, Marathon, which is scheduled for release on June 17; the 11-song collection is a lively, immersive ode to that corner of the world the singer-songwriter has fallen in love with over the years. The album was recorded in a small adobe house in the same small town in Far West Texas that gave the album and this festival its name.
"I loved this little town from the first moment I set eyes on it," says Kennedy, "and it's really become a creatively and spiritually important place for me over the years. We started this festival with the simple idea of ​​sharing songs and stories in the beautiful and rugged setting of Marathon, and with the help of our presenter The Gage Hotel, I feel like we've really built something Special. A large part of our participants have been coming to the festival since the first year – and for me that is a sign that we have something good on our hands.