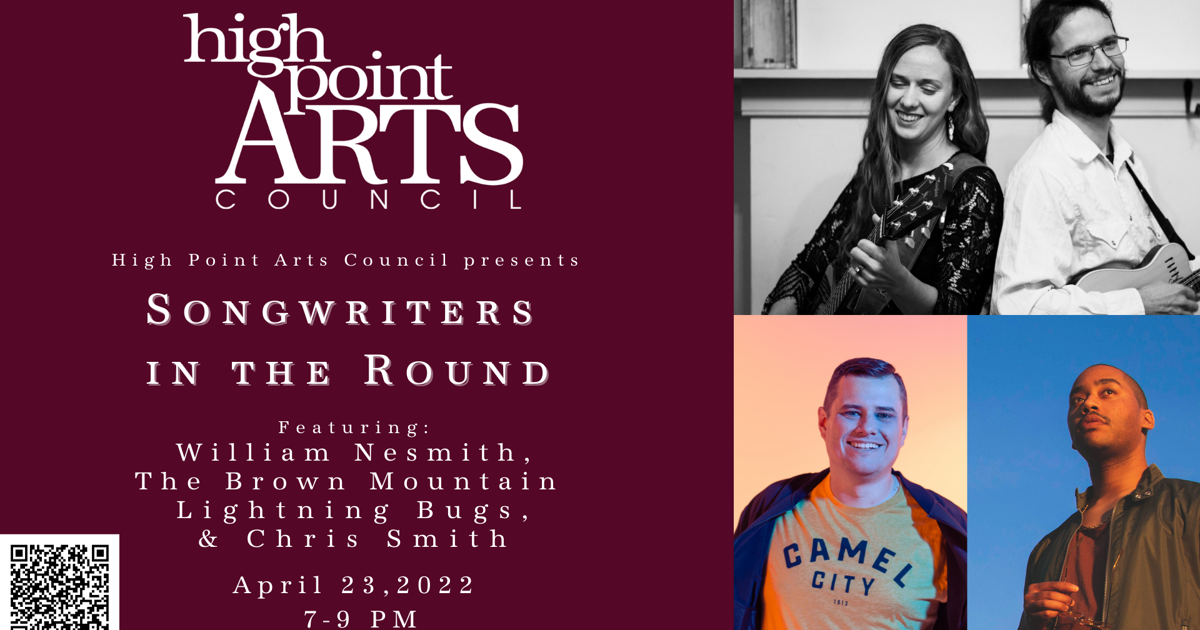 Songwriters in the Round Event Comes to High Point | Music
The High Point Arts Council is proud to present a new concert series: Songwriters in the Round. These quarterly concerts will feature local performers who frequent nearby stages and attend the High Point Songwriter's Circle, led by Jack Gorham.
Please join us Saturday, April 23, 7-9 p.m. at the Centennial Station Arts Center for some wonderful music as we feature two local artists; singer-songwriter, William Nesmith and The Brown Mountain Lightning Bugs.
From inspiring ballads to bubbly bops, William Nesmith uses his impressive vocal range and unique registers to paint an array of emotions. If Jerry Garcia and Tom Waits were an Appalachian music duo, it might sound a bit like the Brown Mountain Lightning Bugs. Hailing from Winston-Salem, NC Zack and Kendra Harding blend the traditional with the trippy to create original music they like to call folk(ish). Chris Smith is a music industry veteran and songwriter advocate who has found success in many formats. from his EP "Know Who I Am" to his accompanying short film "Power: Necessary Trouble, Necessary Noise", Chris delivers music that speaks to the world around us. You don't want to miss this brilliant mix of artists coming to the Songwriters in the Round concert!
Tickets for Songwriters in the Round are $10 and can be purchased online at https://www.etix.com/ticket/p/3425292/songwriters-in-the-round-high-point-high-point-arts-council
For more information, contact Hope Barker, Arts Education Coordinator, at education@highpointarts.org or 336-889-2787 ext. 23. The Centennial Station Arts Center is located in downtown High Point at 121 S. Centennial Station Arts Center.