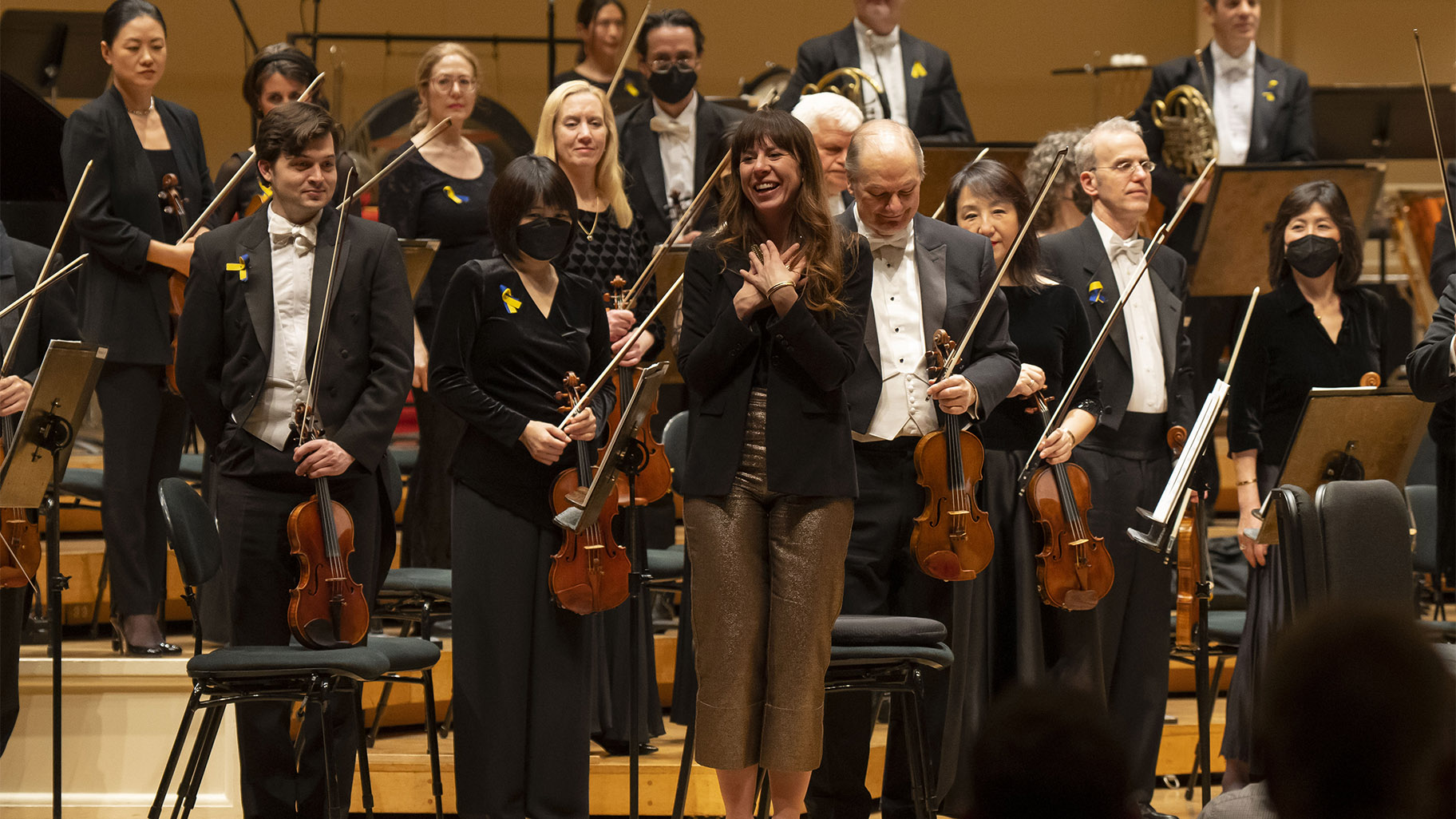 Maestro Muti leads an eclectic program showcasing the genius of three composers and the CSO | Chicago News
Composer Missy Mazzoli greets the audience after a performance of the world premiere of the CSO commission 'Orpheus Undone'. (Credit: Todd Rosenberg Photography)

Maestro Riccardo Muti and the musicians of Chicago Symphony Orchestra had their work cut out for them on Thursday night with a concert featuring three very different and hugely thought-provoking works that, as always, showcased the genius of the composers and their performers. And the juxtaposition of these works: the world premiere of Missy Mazzoli's fascinating "Orpheus Undone", Gustav Mahler's deliciously poetic art melodies, "Ruckert-Lieder", and the "Symphony No. 2" in C minor of Anton Bruckner have only reinforced their impact.
Mazzoli's work was composed in 2019 when she was CSO's Mead Composer-in-Residence, but its premiere has been postponed so far due to the pandemic. The 15-minute piece, still sonically surprising, reflects what Mazzoli would have said, stemming from his "interest in depicting aspects of loss, grief, or joy, which are complicated." It is designed to capture two moments from a mythical tale: the death of Orpheus' love, Eurydice, and his decision to follow her into the underworld. But that widely interpreted myth aside, the work could easily stand on its own for its compelling mood swings and instrumentation. It is a work worth waiting for, with a rhythmic power that could also make it an ideal score for a ballet.
From the initial clanking of wooden blocks and other instruments (with percussionist Cynthia Yeh in top form, as always) and its alluring synchrony with the strings (including the lively plucking of the bassists), Mazzoli deftly generates wonderfully different moods. in his use of the complex interplay of harp, piano, winds and brass. And Muti and his musicians have brilliantly polished the harmonious hybrid nature of this seductive work that is both classical and modern.
Next comes Mahler's hauntingly beautiful staging of five heartbreaking poems about the many aspects of love, written by German poet Friedrich Ruckert and performed by Elina Garancathe mezzo-soprano of Latvian origin makes her debut at the CSO.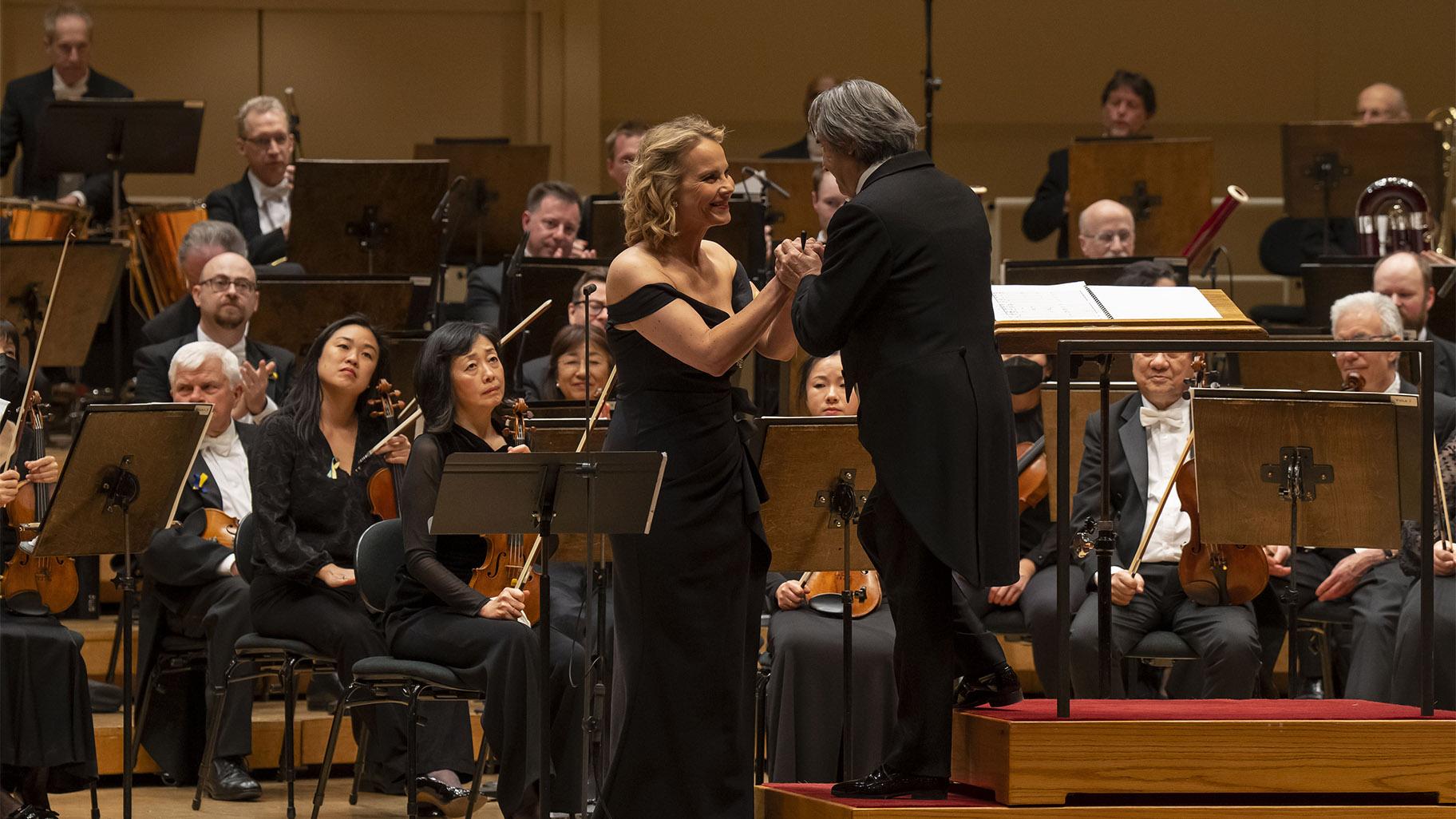 Zell's musical director, Riccardo Muti, pays tribute to soloist Elīna Garanča after a performance of Mahler's Rückert Lieder with the Chicago Symphony Orchestra. (Credit: Todd Rosenberg Photography)

Ruckert's painfully confessional poetry is direct and often devastating, and Garanca sang Mahler's arrangements with an understated urgency, frankness and passion that avoided any exaggeration. She used her soft voice to capture the passages of the songs from dream to mourning, resignation and pain. And she subtly captured a sense of the intimacy of the poems, just as the strings brought a muted beauty to the words "I am lost to the world", and the flute and clarinet signaled the death of love. When it all ended, Muti's dance raising his arms in the air, a position he held for a few moments in hushed silence, was perfection.
The second part of the concert was devoted to Bruckner's symphony, performed in the "revised version" of 1877 used by Muti. I confess that Bruckner was never a personal favourite, but I started thinking about it when conductor Herbert Blomstadt led the CSO in the composer's "Symphony No. 4" in early March. And Muti's richly galvanizing approach to the composer's 'Symphony No. 2' sealed the deal.
A real musical conversion has taken place, from the pounding of the timpani of David Herbert, to the singing quality of the winds, to the honeyed sound of the horns, to the pinching of the violins, and from a lyrical dance theme to violent unpredictable thunderstorms. . The sudden mood swings were both unexpected, exciting, and ideally connected. In short, a real awakening.
More of this story
This concert will be repeated on Tuesday at 7:30 p.m.
The Symphonic Ball concert at 6:30 p.m. on Saturday evening (April 2) will feature Rossini's 'Guillaume Tell Overture', Liszt's symphonic poem, 'The Preludes', and a cover of Mahler's 'Ruckert-Lieder' . For tickets, visit cso.org or call (312) 294-3000.
Then with Muti and the CSO (April 7, 8, 9 and 12) will be "Symphonic Interlude No. 2" from "Intermezzo" by Richard Strauss, "Symphony No. 4" by Robert Schumann and "Piano Concerto" by Benjamin Britten . », with soloist Leif Ove Andsnes.
Follow Hedy Weiss on Twitter: @HedyWeissReview
---