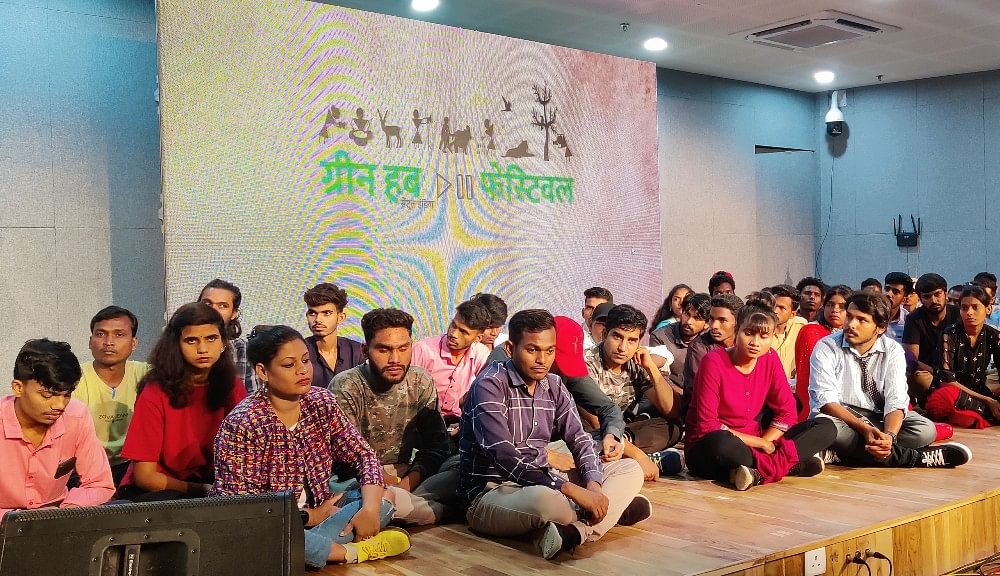 Capturing elephants and folk songs on camera, Bhopal film festival frames tribal talent
Bhopal: The elephants had arrived in his village of Ranchi after more than a decade. Sahebram Bediya, a 23-year-old man from Jharkhand, picked up the camera and began documenting the havoc they were causing. He was the first to capture human-animal destruction and conflict live. A high school dropout and eldest son of a disabled father, Bediya was now a movie pro.
And he's at a film festival in Bhopal celebrated by culture and film czars like Krishnendu Bose, Rita Banerjee and Doel Trivedy. Bediya's movie Gaj Dhundh Rahe Galiyara was screened at the festival.
"I didn't even know how to hold a camera, I didn't know anything about cinema or photography, but I learned everything in the process. Now I want to keep making more films like this about the conflicts between man and nature and do something for my family and my community," he says.
Bediya is not alone. Seventeen rural youth from tribal communities across the country presented their films at the first Green Hub Central India Festival in Bhopal. From social change, natural habitat to women farmers and the erosion of folk traditions, nothing seems to have escaped their lens.
Sooraj Meena, a 21-year-old from Udaipur in Rajasthan who also presented her film at the festival, has not told her family what she has been doing for a year. "I was never able to make them understand the existence of the camera. If they had known I was learning to make movies and work with cameras, they wouldn't have let me out of the house anymore, so I never told them," she says. But despite these challenges, she decided to document the lives of young women in her village who were victims of domestic violence and forced marriages.
---
Read also : Not a rubber stamp – In Draupadi Murmu's backyard, the thirst for development has just skyrocketed
---
Break down the barriers
There are many such stories – of tribal and rural youths who showcased their work at the Bhopal festival this weekend. The group of 17 people, including four women, have just completed an intensive 10-month course – the first edition of the Green Hub Fellowship program – which trained them in multiple aspects of filmmaking. The program aimed to empower them and involve them in issues affecting their communities. The event was organized by civil society groups working in conservation such as Dusty Foot Foundation and Mahashakti Seva Kendra, in association with the Bharat Rural Livelihood Foundation, an initiative of the Ministry of Rural Development aimed at scaling up the civil society action.
The two-day event in Bhopal was the premier exhibition of tribal youth in the world of film festivals. And for many, even the simple act of speaking on stage and answering audience questions about their films. The audience included Madhya Pradesh civil society figures, non-governmental organizations, filmmakers, academics, journalists and students like themselves. In a crowded auditorium, they were asked questions about the challenges they faced when making films. Fellow and tribal girl from Chhattisgarh, Arti Singh told the audience how she was prevented from filming by upper caste communities in a village in Ajmer in Rajasthan. Singh was trying to document the story of a female farmer – Saguni Devi.
Saguni Devi was also in Bhopal, stepping out of her home country for the first time to see her story on the big screen. She then took the stage and sang a song she wrote about the plight of a young girl from Rajasthan who is not allowed to go to school unlike her brother. The auditorium resounded with stormy applause.
The air at Bhopal's Ravindra Bhawan was inspiring, filled with so many stories of courage, conviction and passion for community work.
---
Read also : Why Dhankhar and Murmu are perfect for Modi's 2024 mission
---
Conservation, documentation and filmmaking
The 17 scholarship recipients come from four states of Rajasthan, Chhattisgarh, Madhya Pradesh and Jharkhand and range in age from 18 to 35, representing the tribal communities of Gond, Baiga, Mahaar, Meena, Kamar among others.
For them, the process of learning about film and documenting human-animal conflict, deforestation, water crisis, gender issues and tribal ceremonies, among others, has helped them better understand their own tribal community and others.
"When I went to East Singhbhum in Jharkhand to make a film for this project, I found many songs that the community sings while trying to save the jungle. I didn't know this earlier. It inspired me to work for cultural documentation," says Rohit Sarware from Harda district in Madhya Pradesh, one of the Bhopal festival scholarship recipients.
Another comrade, Vijay Ram Teke from Madhya Pradesh, who opened the festival with a song Chhattisgarhi – an ode to "Dharti Maiyya" (mother earth) – says it is important to digitize and document these songs and cultural practices .
"A mixture of tradition and modernity can save such songs. Every song, sound of tribal instruments, should be digitized and archived," he says. However, current tribal generations, especially those who have left their ancestral villages, rarely know the songs of their ancestors. Mahima Marwai, a Gond tribe girl from MP's Mandala district, says she was never inspired to learn these songs and customs, but after spending almost a year documenting tribal traditions and issues , she will now go back and ask her elders to teach her a few. Songs.
Shashi Kumar and Sanjeev Marskole, from Jharkhand and Madhya Pradesh respectively, are inspired to undertake work involving nature conservation and agriculture.
"The idea was that communities should be involved in making films that affect them – about their lives, their cultures, their livelihoods and their environment," explains Pramathesh Ambasta, CEO of the Bharat Rural Livelihoods Foundation.
"When we talk about tribal societies, tribal communities and geographies, we find that the people talking about them are not necessarily tribal themselves. This could be a way to support and encourage young adivasi to make films that concern them. We must remember that much of this knowledge that exists in tribal societies is now under threat. Even tribal youths may not be so inclined to look at them with a sense of pride or belonging. This whole program and the filmmaking platform was about creating a sense of belonging among these young adivasis," he told ThePrint.
Rita Banerjee, award-winning conservation filmmaker and co-founder of Green Hub India, says video is a transformative tool for social change. "I'm a filmmaker myself and have found the process of making videos to be a great way to learn about conservation and social change. It's a very experiential type of learning."
Prof. GN Devy, Chairman of the BRLF and Chief Guest of the event, enjoyed the films made by the fellows and emphasized the representation of the community by the Adivasis themselves. The world needs to hear the stories of Adivasis from their own perspective, he said.
Fellows also received a certificate of completion and 23 new fellows were also inducted for the second batch of the project.
Green Hub India is working on the idea of ​​engaging and empowering youth in rural areas and tribal communities through visual media, and in turn creating a bank of digital resources for wildlife, environment and indigenous knowledge. The Green Hub Fellowship involves learning the technical aspects of filming, editing, and storytelling; bringing to life untold stories about the land, people and generational knowledge. The Fellowship was first launched in the North East and engaged young people from across the region, with the aim of documenting and conserving wildlife, biodiversity and sustainable traditional practices.
The community has moved to central India, home to 76 million tribal people. The first edition of the program invited applications from four states in the central Indian region with a significant tribal population – Chhattisgarh, Madhya Pradesh, Rajasthan and Jharkhand. During the 10-month program, participants were trained in video documentation and filmmaking by prominent resource persons from across the country. They were then matched with a key social organization in the area for an internship, through which they documented one of the key issues concerning the communities.
"We've been in the northeast for six years, and 90% of the fellows are now working on conservation or social change, either using the camera or working with communities. And that gave us a base to take the fellowship to other places. Central India is geographically and culturally different from the northeast, but the potential is the same," says Banerji.
---
Read also : Rajya Sabha was India's 'elite space'. Modi raped him with Dalit artist Ilaiyaraaja
---
Sense of belonging, pride
Many of the fellows who joined the program were associated with civil society organizations working in their respective fields. Although not all of them have had relationships, they see this as an opportunity to create a chain of change by moving forward those who have been left behind.
Annu Bagmare, a 26-year-old Gond girl who has made films documenting the work of an NGO working in the field of children's education, says she heard about the scholarship through the NGO with whom she works. However, she feels that now she and others like her, who have had an opportunity, have a responsibility to move forward those who are still being left behind.
"Whether there is an NGO or not, there will be a clan of those with power, who will move their communities forward." She also raised awareness and helped girls in her community to apply for the next batch of scholarships.
These young tribals want to move forward, but at the same time, also feel a sense of belonging to their roots. Devesh Singh, Sanjeev Marshkol and Shashi Kumar – three fellows from different communities – understand the importance of moving forward with the world, but also realize how crucial it is for Adivasi communities not to forget their own culture.
"If you want to progress, you have to leave your village. Education is crucial, but I think there should be a way to balance both development and conservation," says Devesh.
Mahima Marwai, however, has a complaint. She went to see the Tribal Museum in Bhopal, and said there was not enough representation. "It's good to make a museum about tribal communities, but I think there should have been more things to display. It does not cover the entire tribal community. Also, if one really wants to experience the tribal culture, one should visit the villages rather than the museums. Our culture is not represented enough in museums," she says.
(Edited by Anurag Chaubey)