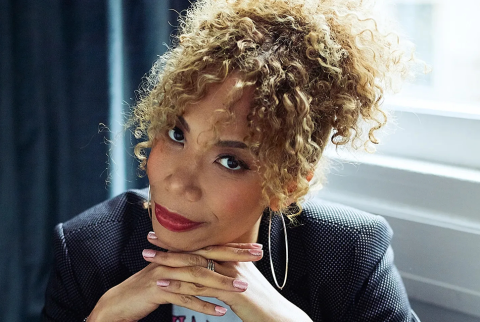 Announcing Songwriters Project Participants and New Master Teacher
The Johnny Mercer Foundation's (JMF) Songwriters Project will meet in person June 19-25 at Northwestern University, continuing a 17-year partnership with the American musical theater project (AMTP).
Fifteen participants, selected from a record field of 220 international applicants, will take part in an intensive week-long program of masterclasses and workshops led by returning master teachers Craig Carnelia, Andrew Lippa, Lindy Robbins and the first master teacher Autumn Rowe.
Rowe is a songwriter, vocal coach, DJ and activist who won a 2022 Grammy Award for Best Album with Jon Batiste for "We Are" and was nominated for Record of the Year for one of five songs that she co-wrote on this album. Rowe has collaborated with artists such as Dua Lipa, Pitbull, Zendaya and Tori Kelly, making her an ideal mentor for the next generation of popular songwriters.
"We are thrilled that Autumn is taking the time from her incredible career to help mentor the shortlisted songwriters for this year's Songwriters Project," said JMF Executive Vice President Jonathan Brielle. "We are so grateful to have her join our other fabulous teachers."
This year's songwriters from the United States, United Kingdom and Canada will take part in the prestigious program, which has been a catalyst for the careers of artists such as Tony, Oscar and Golden Globe winners Benj Pasek and Justin Paul ("La La Land" and "Dear Evan Hansen").
2022 Songwriters Project participants include Cooper Baldwin (Burbank, Calif.), Clare Bierman (Pasadena, Calif.), Sophia DeLeo (New York) Anna DeNoia (Chicago), Jack Doyle (Baltimore), Ben Ginsberg (Oxnard, Calif.), Erika Ji (Palo Alto, Calif.), Dia Morgan (Highland Park, Illinois), Gracie Nash (New York), Alex Petti (New York), Moyana Olivia (Minneapolis), Jasmine Power (Pembrokeshire, Wales), Thalia Ranjbar (Newmarket, Ontario), Fermin Suero, Jr. (Perth Amboy, New Jersey), and Joshua Villa (Virginia Beach, Virginia).
"Once again, we had an unprecedented number of submissions and these 15 songwriters exceeded our expectations," said Brannon Bowers, producer of Northwestern's annual Songwriters Project. "We are thrilled to welcome this great group of diverse artists to our campus for the first time in over two years."
Tuition, travel, and accommodation for the Songwriters Program are generously supported by the Johnny Mercer Foundation. The project will wrap up at the end of July with the Songwriters in (Virtual) Concert event, which will be streamed for free on the Songwriters Project YouTube Channel. For more information, visit the Songwriters in Concert page of the AMTP website.
The mission of the Johnny Mercer Foundation is to support the discipline of songwriting in the tradition of The Great American Songbook, exemplified by the life and work of the legendary Johnny Mercer: lyricist, composer, performer, collaborator and producer.