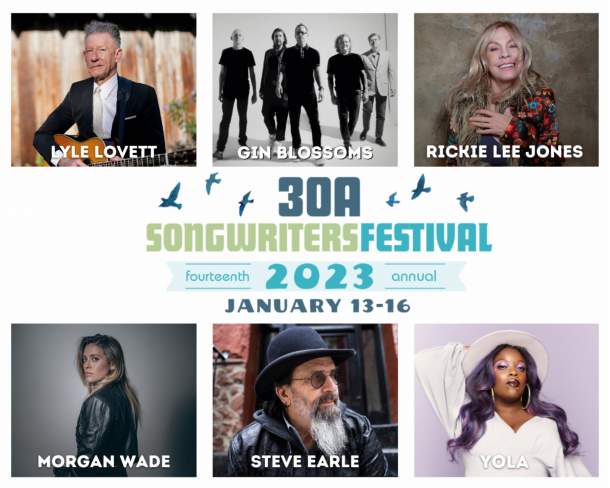 30A SONGWRITERS FESTIVAL Announces 2023 Headliners Including Lyle Lovett, Gin Blossoms, Rickie Lee Jones, Steve Earle and More
For 13 years, the 30A Songwriters Festival drew thousands of dedicated live music fans from across the country to hear original songwriters spanning many genres of music perform their songs. Beach resorts along Highway 30A on the Gulf of Mexico feature 30 venues showcasing over 200 songwriters and over 300 solo, band and round performances throughout the weekend of Jan. 13-16 2023.
The 30A Songwriters Festival will be celebrating its 14th year with performances on the Main Stage at Grand Boulevard Partner Downtown Miramar Beach featuring headline performances by renowned artists LYLE LOVETT, GIN BLOSSOMS, RICKIE LEE JONES, STEVE EARLE, YOLA AND MORGAN WADE.
The festival welcomes for the first time at 30A AMY GRANT, TOM RUSH, BRIAN VANDER ARK (THE VERVE PIPE), the BLACK OPRY REVUE, BETH NIELSEN CHAPMAN, and JOHN CRAIGIE.
Songwriting legends JOHN PAUL WHITE (The Civil Wars), SHAWN MULLINS, KATHLEEN EDWARDS, TINSLEY ELLIS, DARRELL SCOTT, ADIA VICTORIA, CHUCK PROPHET, LIVINGSTON TAYLOR, ABE PARTRIDGE, LILLY HIATT, JOHN FULLBRIGHT return to give two shows each throughout the weekend. , SARAH LEE GUTHRIE, PAUL THORN AND JAMES MCMURTRY.
Over 100 Additional Artists To Be Announced Over The Next Weeks – Stay Tuned
We are pleased to announce the following confirmed artists: Hayes Carll, Glenn Phillips, Jeffrey Steele, Pat McGee, Bob Schneider, Abe Partridge, Cousin Curtiss, Mary Gauthier, Dan Navarro, Mark Erelli, Jonathan Byrd, Peter Holsapple & Chris Stamey , Will Hoge, Don Dixon & Marti Jones, , Nicole Chillemi and the Jazz Legacy Project, Amanda Platt & The Honeycutters, Griffin House, Gretchen Peters, Kim Richey, Amy LaVere & Will Sexton, Will Kimbrough, Leigh Nash, Garrison Starr, Michael Tolcher, Mary Bragg, Tim Easton, Kalen & Aslyn, Cooper Carter, Crys Matthews, Florence Dore, Adrian Carter, John Lowell, Heather Mae, Charlie Mars, Michael McDermott, Leslie Mendelson, Amy Rigby, Danielle Howle, Side Pony, Darden Smith , The Kennedys, Pat Byrne, Levi Lowery, Certainly So, Eddie 9V, Tall Pines, Meaghan Farrell, Jesse Lynn Madera, Danni Nicholis, Certainly So, Alice Peacock, Hannah Miller, Sammi Accola and Goldpine.
Lyle Lovett has broadened the definition of American music in a career that has spanned 14 albums since his self-titled debut in 1986. Singer, songwriter and actor, the four-time Grammy Award-winning musician fuses elements of country, swing and jazz. , folk, gospel and blues in a convention-defying way that breaks down barriers. In January, Lovett will take to the Grand Boulevard main stage to perform a career-spanning set ranging from early hits like "If I Had a Boat" and "Cowboy Man" to the June 12, 2022 selections.
Gin Blossoms' fusion of rock, folk and country melodic elements paved the way for today's modern rock. Their five-platinum New Miserable Experience contained instant classics like 'Hey Jealousy', 'Found Out About You' and 'Allison Road' and established them as one of the great songwriting groups of their generation. Renowned performers, playing over 100 tour dates a year, Gin Blossoms will bring 30A audiences a slew of hits like "Til I Hear It From You", "Follow You Down" and "As Long As It Matters" as well as excerpts from their latest Mixed Reality release.
Rickie Lee Jones charmed two sold-out audiences at last year's festival and she returns in 2023 to headline as well as a special night out at the club. His acclaimed memoir Last Chance Texaco published in 2021 is "as rich and colorful as Jones' best lyrics," writes The New York Times. The two-time Grammy winner, known for her haunting voice that ranges from deep longing to sultry late-night, first burst onto the Los Angeles scene in the mid-1970s penning instant classics like " Chuck E.'s In Love", "Danny's All-Star Joint", and the seminal album, Pirates.
Steve Earle needs no introduction. One of America's most gifted living songwriters, the three-time Grammy winner has released twenty-two albums and amassed one of the most beloved songwriting catalogs of all time over the course of his four-decade career. The multi-platinum hits "Copperhead Road" and "Guitar Town" are just the tip of the iceberg. Earle's songs have been recorded by music legends such as Johnny Cash, Emmylou Harris, Carl Perkins, Waylon Jennings, Vince Gill and Joan Baez. Throughout his career, Earle also became a novelist, film, television and theater actor, playwright, short story writer, record producer and radio host. His latest album, Jerry Jeff, pays homage to legendary outlaw singer-songwriter Jerry Jeff Walker.
Morgan Wade is taking the world by storm with her acclaimed debut album Reckless (produced by Jason Isbell + 400 Unit guitarist Sadler Vaden and Paul Ebersold), the hits "Wilder Days" and "Run", and a sold-out tour at across the country. But Wade didn't start writing to make a splash, for critical acclaim, or for massive concert tours. She wrote to speak her truth, to save her own life – and perhaps throw a rope to others who are struggling. Wade has a voice The FADER praises is "like a ragged blade, sharp enough to draw blood but brilliant in the light" while The New York Times states "she sounds like she's singing from the depths of history". Wade's 30A debut is your chance to see a big star rise to power.
Yola achieved resounding success with her critically acclaimed debut album Walk Through Fire in 2019. Hailed as a fluid rising star of the black British genre, she landed four Grammy nominations, including Best New Artist for her unique blend of of Americana and classic R&B and has established herself as one of the finest live artists on the scene. His new anthem album Stand for Myself is a sonic blend of symphonic soul and classic pop that traces a musical thread to Yola's most eclectic musical inspirations. Yola made her acting debut as sister Rosetta Tharpe in Baz Luhrmann's 2022 biopic Elvis.
The 30A Songwriters Festival production team transforms amphitheatres, town halls, restaurants, theatres, bars and covered terraces into unique music venues with state-of-the-art sound systems ranging in capacity from 75 to 750 seats indoors and 6,000 outdoors.