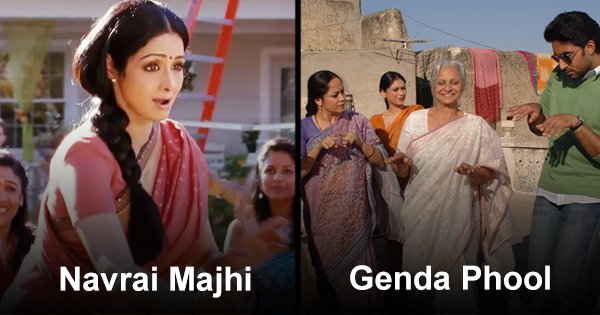 14 Bollywood Folk Songs | 14 beautiful Indian songs from Hindi cinema
With every Hindi movie, we discover a fair share of love ballads, dance numbers and theme songs. But what some of us may not realize is how many of these songs are actually inspired by or remixed from local folksongs. Like these songs:
1. Navrai Majhi in English vinglish
A popular Marathi wedding song, Navrai Majhi is a song traditionally sung by the bride's family. It's a song that praises the beauty and grace of a bride, while celebrating her hopes and dreams.
2. Dilbaro in Raazi
The first lines of the song Dilbaro are actually part of a Kashmiri wedding song. It is traditionally a song sung during bidai and translates to a daughter bidding farewell to her father.
3. Genda Phool in Delhi-6
This simple but fun number is actually a Chattisgarhi folk song called Dadariya. Dadariya included folk songs that described personal situations, but in a humorous way – as with Genda Phoolwhere a woman talks about her mother and her sister-in-law, while waiting for her husband to come home.
4. Ki Seeti engine in Khubsorat
This energetic dance number is actually inspired by a Rajasthani folk song, and the original lyrics were, Anjan ki sees me mharo man dole. While the Bollywood number actually translates to an upbeat dance number, the original track has a bit more indecent lyrics!
5. jugni in Cocktail
This famous Punjabi folk song has actually been recreated a number of times with one of the most famous versions being the Sufi version. Room Di Booti by Coke Studio. Originally, in folk music, Jugni refers to the singer who acts as an observer and sings about the situations he finds himself in. In the film, the Sufi version of the song was used. It talks about facing trials and tribulations on your way to love.
6. Kesaria Balam in Golden
Undoubtedly one of the most famous folk songs of Rajasthan, the song was originally composed to welcome the Rajput warriors home after the wars. It was first sung by Padma Shri recipient and folk singer Allah Jilai Bai.
7. Ambarsariya in fukrey
One of Sona Mahapatra's most famous tracks to date, the tune of this delightful track is slightly Punjabi-inspired chabad (sacred song) Rakkhi Charna De Kol. Although the lyrics were changed for the film, they are also inspired by another Punjabi folk song.
8. bumbro in Kashmir Mission
bumbro is a traditional Kashmiri folk song, originally written for the very first Kashmiri Opera Bombur ta Yemberzal. Traditionally, it is a song sung during the Mehndi ceremony at a wedding.
9. Nimbooda in Hum Dil From Chuke Sanam
First popularized by artist Manganiyar Ghazi Khan, this traditional Rajasthani folk song uses "fetching limes" as a double meaning.
ten. Chudiya Khanak Gayi (Morni Baga Mein Bole) in Lamhe
Another popular folk song from Rajasthan, it was traditionally sung by Banjara (traditional nomads). Here, the singer talks about the pain of waiting for her lover to return. The lyrics of the folk song were included as the song's opening verse.
11. Mor Bani Thanghat Kare in Goliyon Ki Raasleela Ram-Leela
Poet Jhaverchand Meghani first translated this Gujrati folk song – originally titled Navi Varcha–in 1944. The song was originally inspired by Rabindranath Tagore's poem, Navvarcha, published in 1920.
12. Cattey in Angry Indian Goddesses
A traditional Rajasthani folk song, the number was first recreated for Coke Studio India – where Rajasthani folk singer Bhanwari Devi and rap singer Hard Kaur performed together. It was composed, arranged and produced by Ram Sampath. The original song has a strong devotional aspect.
13. Pallu Latke in Nauker
This Rajasthani folk song was first included in the 1979 comedy Naukar and later remixed into the 2017 film Shaadi Mein Zaroor Aana.
14. Ball Ball in Marriage and prejudice
The final verse of this dance number is actually inspired by a famous Punjabi folk song (type) Baage Vich Aaya Karo. In fact, singers Jagjit and Chitra Singh even performed this particular number at BBC Pebble Mill, Birmingham, in 1979.
A special mention to the Kashmiri song Roshay, included in the web series Made in heaven.
Find stories about movies and music at ScoopWhoop.com.