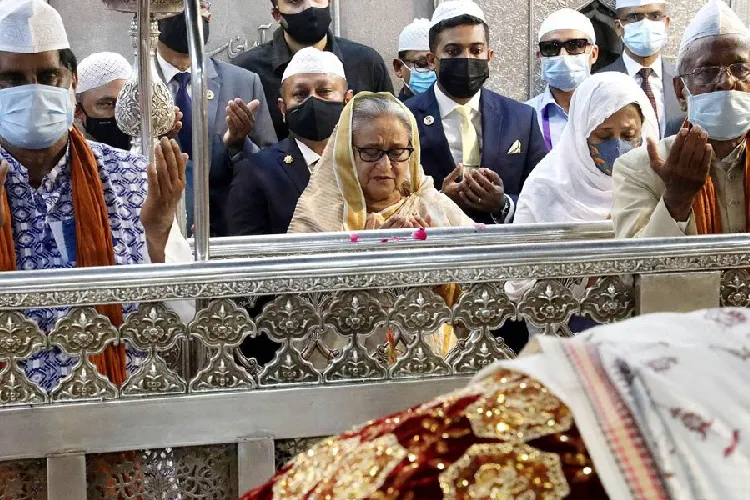 Sheikh Hasina pays tribute to Ajmer Sharif

New Delhi



Prime Minister of Bangladesh Sheikh Hasina today visited Ajmer, Rajasthan where she paid homage at the shrine of Sufi saint Khwaja Moinuddin Chisty also known as Garib Nawaz.

Amid tight security, Sheikh Hasina prayed to the dargah of the subcontinent's most revered Sufi saint. She was welcomed on the red carpet by the Sajjadanashin and Gaddinashin of the shrine. Hasina had paid homage at Khwaja Nizamuddin Chisty shrine in Delhi. She is on a four-day visit to India where she held bilateral talks with Indian leaders, including Prime Minister Narendra Modi.
Prime Minister Hasina had been a regular visitor to shrines during her stay in Delhi from 1975 to 1981 after the assassination of her father, Sheikh Mujibur Rahman.

Sheikh Hasina praying at Ajmer Dargah

India's then Prime Minister Indira Gandhi granted asylum to Sheikh Hasina and her sister Sheikh Rehana as Bangladesh went through a tumultuous time after the assassination of Sheikh Mujibur, the man responsible for creating the country.
Upon arrival in Ajmer, Sheikh Hasina had also danced to Jaipur airport folk songs. The dance show was supposed to welcome her.

Sheikh Hasina offering chadar and flowers to the Ajmer Dargah
The video shared by Indian media's Twitter platform ANI shows her matching her steps with local artists.

#LOOK | Rajasthan: Upon her arrival at Jaipur airport earlier today, Bangladeshi Prime Minister Sheikh Hasina spoke with local artists who had gathered there to welcome her. pic.twitter.com/Mk8qf5xDEG

— ANI (@ANI) September 8, 2022
Her next stop was the Ajmer Shrine, where, amid tight security, she can be seen paying her respects.
According to the protocols followed for visits by a head of nation, there were no other worshipers in the shrine premises and the shrine markets were also closed.
Earlier on Wednesday, she hailed India's support during the 1971 Bangladesh Liberation War and reaffirmed her country's ties with India.
She underlined the ties between the two countries and that the relationship goes far beyond the strategic partnership.

READ ALSO: Sheikh Hasina thanks his Indian brothers who shed blood for Bangladesh