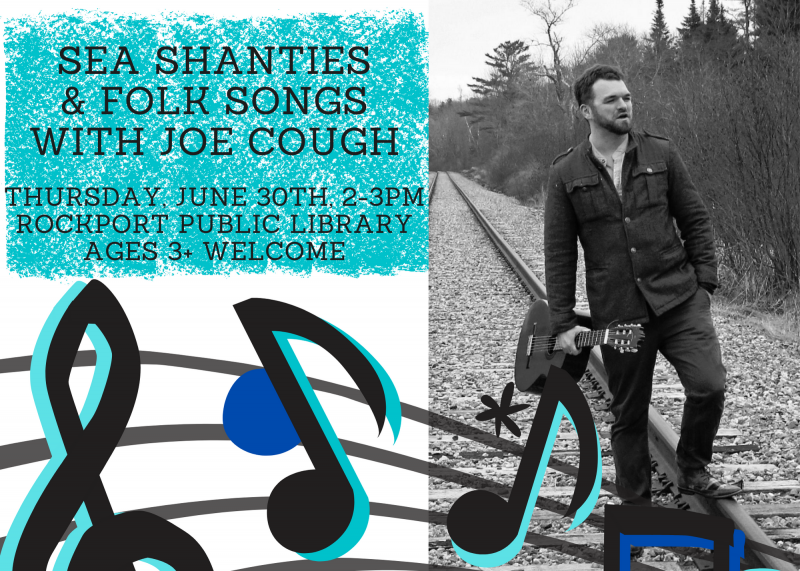 Sea Songs and Folksongs with Joe Cough at the Rockport Public Library
ROCKPORT — Join the Rockport Public Library, Thursday, June 30, from 2-3 p.m. in the Lower Level Arcades, to sing Sea Shanties with performer and music teacher, Joe Cough.
Joe Cough (Erasmus More) is a Maine-based musician, educator and performer. He is a graduate of the College of the Atlantic and earned his Masters in Music Performance from the University of Maine. Specialized in French chanson, he also plays/teaches piano, guitar and music tech.
A passionate composer and songwriter, he recently released an album titled 8-bit Arias inspired by his love of classical vocals and 80s and 90s game music. He has performed at many venues across the state, most recently as a soloist for the Bangor Symphony Orchestra as a tenor from Mozart's Mass in C minor.
As an educator, he teaches people of all ages and walks of life how to sing with healthy techniques for body and soul. It also teaches how to use various software and compose music digitally so that, regardless of musical training, anyone can create music.
Cough lives on the Midcoast with his wife, Hawthorne Smith, and their two boys.
This program is ideal for children ages 3 and up and is offered in partnership with the Midcoast Music Academy.