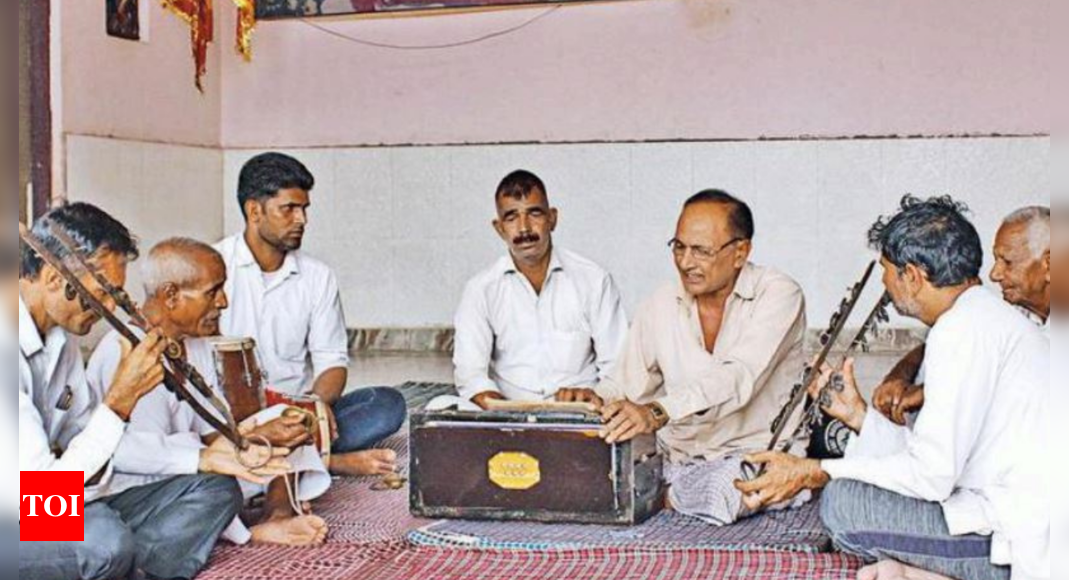 Orally Preserved, Chithara's Rich Harvest of Folk Songs Become Permanent | News from Noida
Sheoraj Singh Bhati has the rough, swarthy hands of a cop, but on the harmonium they feel like velvet. His small but engaged audience knows every syllable of 'Saanwariya nandlal ne maya dikhlai', but it comes alive in the 64-year-old's voice and distinctive harmonium accompaniment.
Sheoraj is assisted by Rajinder Chavdawhose repertoire includes the melancholy rendition of "Hari sharan mein aa ja, teri ayu beetey ghadi ghadi" (Come under the wings of the lord as you grow old), a composition by 93-year-old Shyami Bhagat, one of nearly 40 creations of the veteran.
The gathering, in a temple dedicated to Baba Mohan Ram at chithara village, is as much a convivial pastime as it is a celebration of an old local tradition of community gathering around music – not curated from playlists or borrowed from movies, but their own – which has been passed down to children by passionate parents or music-loving elders for generations and preserved primarily in the collective memory of the community.
Chithara, home to around 8,000 people in a semi-urban pocket of Greater Noidahad local wealth folk songs, and artists, through its communities – Gujjars, Jatavs, Brahmins, Thakurs, Kolis and Muslims. There is a local song about just about anything, from festivals, weddings and births, seasons and village life to spouses, love, aging, etc., in addition to a rich variety of devotional compositions, mostly about Lord Krishna, the region being close to Mathura.
But while many sang, few wrote. Sheoraj was an exception. He realized that memory would not always be a reliable database and kept a notebook of all the compositions he knew. The urgency has come to watch young people become addicted to music apps on phones. "I learned these songs when I was a 13 or 14 year old boy from my father and parents in the oral tradition. Later I started writing them, realizing that they would fade over time, being given the next generation's lack of interest in folk songs. They're busy with their phones and gadgets," says Sheoraj.
Bhagat was another prescient enough to keep the notes of his compositions. "I have written more than three dozen songs from my vast experience, ranging from agriculture, various seasons and festivities, but mostly devotional nirgun bhajans. These were published in a local book, which sold over 2,000 copies," Bhagat told TOI, attributing his songwriting to the "good and happy life I lived, plowing my land, eating pure food and breathing fresh air, and living in harmony".
Bala (64), a housewife who has lived in Chithara for more than 40 years, is a singer rich in prasav geet (songs about childbirth), bhaat and sawan geet (songs about weddings and monsoon), mundan (child's haircut ceremony), Holi and family life.
While the dialect is local Gujjar with a touch of Haryanvi, the songs also contain words from Hindi and Rajasthani. Example – "Raja ji gadi lambi si liva do, tero biko pahad ka qila" (my dear husband, buy me a big car because you sold a big property). Or this – "Saas meri pyar kariye, laad kariye, mein peehar chhod ke aeyee" (Mother-in-law, love me, take care of me for I left my parent's house to come here). "Our songs reflect the mood. Folk singing is a way in which we come together on different occasions and exchange notes about various things like family, festivals and traditions. These gatherings and the culture of folk song maintain the linked village communities," says Bala.
Another singer, Mithilesh (55), who has lived in Chithara for three decades, says singing is not a male bastion – women have actively participated in folk performances on various cultural occasions. Prominent male singers include Sheoraj, Chavda, Shriom Shastri and Sant Ram Bhagat. Among women, Bala, Bhagvati, Shashi, Mithilesh and Rajan are well known. Most of them are farmers. Some, like Sheoraj, have retired from government.
During the singing sessions, groups of singers perform traditional musical accompaniments such as harmonium, dholak, manjira, chimta, and khartal at a specific location and dress in traditional style. In recent years, audio and video recordings have also been made to record these performances, especially after a group of researchers from a private university led by Professor Jyoti Kumar Sharma came across the treasures of the folk song. of Chithara during a project to document its diversity and traditional knowledge. in 2014-15.
Since then, Sharma, assisted by Amit Kumar Tripathi, a PhD research associate at the university, has documented the songs – 430 to date, including 86 by women – both as audio recordings and written notes. "All the lyrics were provided in a book, which we published for future generations," Sharma said. Many of them were taken from Sheoraj's notebooks as the predominantly oral tradition worked its way into a more enduring repertoire, through genres like aarati, bhajan, bhet, dhola, geet, kissa and ragini.
Documenting the songs took many years as researchers went from mohalla to mohalla, chronicling their music. "Inhabitants of different mohallas were invited to participate in a workshop and contribute to the documentation of traditional knowledge. A series of formal and informal semi-structured interviews, workshops with participants and focus group discussions with villagers were also been conducted to gather information about the folk traditions of Chithara," says Sharma, adding that some of the compositions they chronicled are new and have contemporary references.