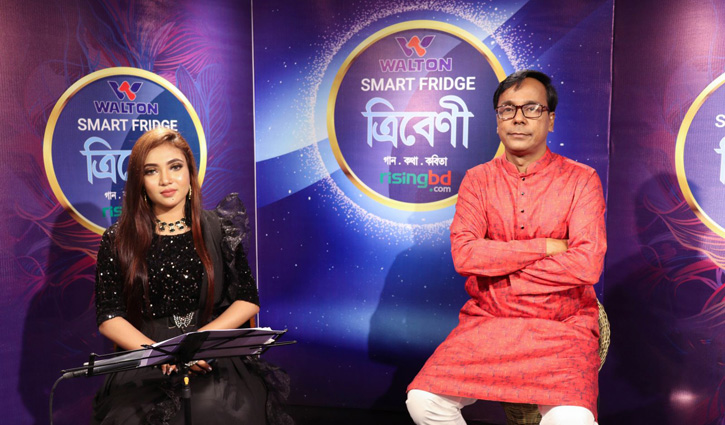 Nishi will sing folk songs in Tribeni tonight
Artist Sraboni Akter Nishi studies English literature at the National University. She has been learning music since childhood. Folk songs are at the top of his choice. Nishi who hails from Madhukhali of Faridpur has released a duet album named "Swapna Tui Hobi". She has won many prizes in the singing competition.
The 75th episode of a live show titled "Tribeni" will air at 10:00 p.m. today (October 13) where Sraboni artist Akter Nishi will join as a guest.
The country's leading and popular online news portal, risebd.com, hosts the live show schedule every Wednesday night.
The program is broadcast live or first on Facebook from the risebd.com Facebook page.
Writer, journalist, presenter and business personality Uday Hakim regularly hosts the live show program titled "Tribeni" which highlights literature and music.
The outstanding program sponsored by Walton 'Smart Fridge' essentially aims to focus on the song, the lyrics and the poem.
It should be noted that risebd regularly organizes the program of live shows with the participation of star personalities who have a long experience in the fields of entertainment, art-literature, sports, the business world and the technology.
The program containing outstanding content was designed to entertain viewers, audiences and readers during this coronavirus pandemic.
In addition to the scheduled program every Wednesday, special programs are also held on various important days.
Uday Hakim, Advisor Editor of risebd.com, said, "We would like to make Tribeni a musical laboratory. This special program is organized to showcase talented artists who are scattered in different upazilas and districts of the country. Both veterans and new artists will be invited to attend the program. The show becomes popular as the day progresses. At the same time, artists get a platform to present themselves. The show must continue in the interest of the artists.
Those interested in joining the program directly in the risebd studio or via online can contact at this email address: [email protected] or the program is accessible via the Tribeni Facebook page (https://www.facebook.com/Risingbd.Tribeni/). To participate in the event, those interested can contact this number directly—01572168194. The live show program will also be available on this page: https://www.facebook.com/DailyrisingbdOnlineNEWS.