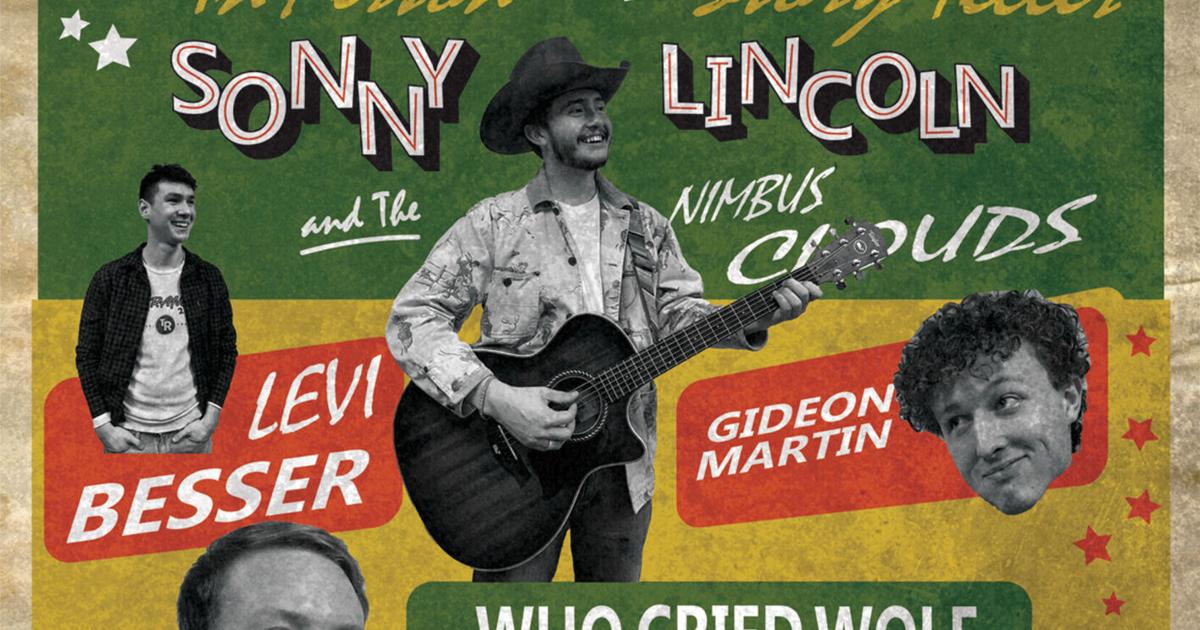 Midwest Indie Songwriters Showcase: Inaugural concert showcasing the talents of four C of O students | Entertainment
A group of College of the Ozarks students are bringing their musical talents together for a special concert this month at Hollister.
On Friday, March 25, the community is invited to attend the first Midwest Indie Songwriters Showcase at Country Road Flea Market & Antiques. The showcase will run from 7-9 p.m. and will feature the talents of singer/songwriter/musicians Sonny Lincoln, Levi Besser, Gideon Martin and Who Cried Wolf.
Caleb Miller, who performs under the stage name Sonny Lincoln, is the organizer of this free event. Miller shared the showcase's four performers, including himself, will feature original music and lyrics.
"We're all friends and we kind of sing different sets of songs that we've written with an emphasis on the lyrics. When you walk in, you'll get a little pamphlet that will have all the lyrics for the songs, so you can enjoy music, but also so you can really see what we're saying," Miller said. "We have songs about everything from our relationship with God or romance or a dog or our parents and family. kind of any lineup. We all just have a heart to do it with excellence and make great music and just reflect God through that work ethic.
Miller explained why he chose an antique store as the backdrop for the window display.
"I love thrift stores, I love antiques, and a lot of my friends do it. I felt like it really was part of Branson's DNA," Miller said. "It's just a fun event where others could come and enjoy the lyrics and it's almost like you're sitting in a living room, which is actually how we're going to set the scene up front. It's kind of like you're sharing a song with friends that they've written, so it's also kind of an intimate setting.
For his performance, Miller said he would show his strength in songwriting.
"I wrote love songs. I wrote about being in my bedroom and talking to my fish. There's a song I wrote that I really like called "No one is a prophet in his own land". It's from the perspective of someone who grew up with Jesus and doesn't know whether or not he believes what happened to him," Miller said. "Then there's a song I wrote called 'Wilderado Wind Ranch' about my dad leading me to my first semester in college. I play guitar and that's about pretty much everything… I concentrate a lot on the lyrics of my songs and I hope to sing them well.Then I have a lot of instrumentalists who accompany me.
Joining Miller to perform at the show will be three of his fellow C of O students. Miller said this event will be the first time these guys have performed together.
"There is Gédéon Martin. He actually has an album on every streaming service. It's called For Her and he's a pianist, singer/songwriter, writes a lot of love songs and almost has that Elton John feeling. He's very, very talented," Miller said. "There's Levi Besser who kind of grew up in the area. He's a guitarist and he has probably the best voice I've ever heard in person. He writes very down-to-earth songs that are largely family-oriented. He traveled a lot growing up with his dad and they made a lot of music, so he has gospel undertones in his music.
"Then we have Marshal Pitt who is a friend of mine. I met him building at C of O and he is nothing short of a musical genius. He has a perfect throw, he can play just about anything and if he can't play it he can take it back. The harmonica, the cello, but I think this time he will focus more on the piano. He writes a lot about metaphors of personal experiences, different aspects of nature and things like that. It bears the title Who Cried Wolf.
While studying marketing at C of O, Miller shared that he began to learn new skills which, in turn, led him to organize this particular event.
"I realized that even though I had a heart for my own music, I was getting really, really amped up and excited and passionate about finding other talented people and encouraging them to believe it was tangible . Because even though there is risk, I think being authentic and connecting and really putting yourself forward, albeit sometimes scary, are things you can do to make a career like this tangible." , Miller said. "Over the past three years at C of O, I've spent a lot of time finding these resources. Like how to put on music. It took me three years. Now with these other artists, who inspire me because they're so talented, I can share these things with them so they don't have such a learning curve, so they can kind of start to make themselves known. In short, I guess I'm really passionate about gifted people.
Miller added that the inspiration for this event also came from Springfield's rising music scene.
"I went to a show with my girlfriend…and it was so cool to see how all these independent artists supported each other and held events together," Miller said. "I wanted to take this from Springfield and take Branson's DNA and do it with talented people who are my age and who I believe are very equipped by C of O to pursue these things. It's my heart behind it and the kind of way I saw it is not just a showcase of C of O's talent, I believe C of O really equipped us for these things, but a showcase of young Christian talents who no matter what they write through their work ethic and excellence can reflect God through it.
Alongside the performers, Miller said many of the different aspects of the showcase were made possible by fellow C of O students.
"Almost everything involved in the event was actually designed by Matthew Wamsley, who is also a student at C of O. He is a graphic designer. It is also a showcase of his talent and also the videographer and the photographers who will be there, who are also all C of O students," Miller said. "While we're doing this, Jackson Bliss…he'll be shooting music videos for a couple of my songs and there'll be a few other photographers as well. It's really curated by C of O students. There's a lot of C of O talent, from graphic design to music to instruments to photographer and videography, so it's definitely something exciting thing about it too.
As an added incentive to come to the showcase, the first 40 people to arrive at the event will receive a free vinyl sticker, which was custom made for the event.
"I would like you to go out and listen to some original music. I would say most of it will be relaxing and almost like a cafe environment where you can really sit and focus on the lyrics to certain songs. Some songs will be more optimists, but it's definitely a place where you can come and sit and enjoy the lyrics of a song. If you haven't had such an opportunity before, I would really encourage you to come out, sit down, listen to music and to appreciate the value of the words they contain.
Country Road Flea Market & Antiques is located at 10971 Historic, MO-165 in Hollister.