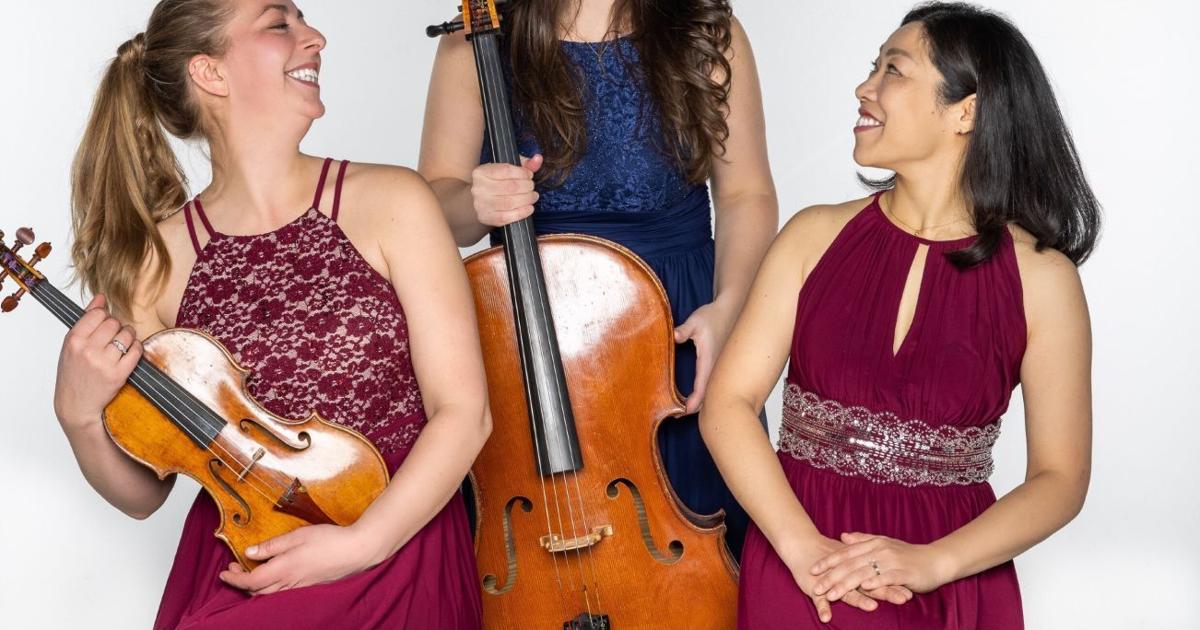 Le Trio Champlain: Presentation of female French composers in Plainfield, Brattleboro | Vermont Arts
The Champlain Trio, which was featured in Vermont when Jay Craven's documentary "Empty Stages: Performances and Stories of Resilience" aired June 17, 2021 on Vermont PBS, emerged from the COVID-19 pandemic with their second tour of concerts.
"French Voices" will present the Trio n°1 in G minor by Cécile Chaminade, "D'un soir triste" and "D'un matin de Printemps" by Lili Boulanger and the Trio in D by Gabriel Fauré. minor, op. 120.
"For me, it's a different kind of soundscape that our trio explores – it was really fun," explained pianist Hiromi Fukuda. "French music is above all a timbre color, and that requires a real imagination compared to the other pieces we play, which are a little more in the classical and romantic tradition.
"There is darkness," added violinist Letitia Quante. "We said to ourselves, is it a little too heavy with the Boulangers and Fauré? But that's the glory of the Chaminade.
"For me, the Lilli Boulanger is the part of the program that is the most inspiring," added Quante. "I'm learning so much."
"This program is going to be a little more difficult (than our previous ones)," added cellist Emily Taubl. "Each piece is a challenge in a truly unique way."
Performances of "French Voices" are scheduled for Sunday at 4 p.m. at the Plainfield City Hall Opera House; 4 p.m. Sunday, April 3 at the Brattleboro Music Center; 7:30 p.m. on Tuesday, May 10 at Wake Robin in Shelburne; and Thursday, August 25 at the Isham Family Farm Summer Series (details to be announced on website.)
The first half of the trio's program is dedicated to two female composers — who enjoyed success during their lifetime and are experiencing a resurgence of interest. Chaminade (1857-1944) was a French composer and virtuoso pianist. In 1913, she received the Legion of Honor, a first for a composer. The composer Ambroise Thomas ("Mignon") said of her: "It is not a woman who composes, but a composer who is a woman".
"La Chaminade is the light menu of the program, but it's not easy," Taubl said of Trio No. 1 in G minor. "She wrote the cello part like a pianist. A lot of stuff sounds good but is technically clunky – and it's supposed to sound so nice and light.
"It's really interesting," Fukuda said. "He jumps from key to key in a very unexpected way."
"Sometimes we're in two sharps and two minutes later we're in two flats," Quante said. "It's like a mad dash of technique."
Lili Boulanger (1893-1918) is perhaps the greatest composer since Saint Hildegard of Bingen (1098-1179). Boulanger was the first woman to win the ultimate Prix de Rome composition prize in 1913, but her fame was limited by her short life. Best known was his sister, Nadia, perhaps the greatest composition teacher in history, whose students included Leonard Bernstein, Elliott Carter, Aaron Copland, Philip Glass and Astor Piazzola, among many others.
"I could go on for two hours," Quante said of Lili Boulanger. "For me, it's her agreements that she always relies on. There are these very wide chords, so when we balance in a trio, it's not a given that should be the loudest of the chord at all times.
"There's often a beautiful thread, but you have to look for it," Taubl said. "We're all kind of on our own plane, and all of a sudden it's going from Hiromi to me, and I'm going back to Hiromi."
"There are also real jazz influences, and you even hear Stravinsky," Fukuda said. "The dissonance is really striking. We play two pieces of her that couldn't be more different, but actually use the same motif. They are therefore related but very different.
"Those were the last two plays she wrote and the one in the spring her sister had to finish," Quante said. "For me, 'D'un soir triste' is about her thinking about life late at night when she knew she was going to die – and so there's something of a longing, and also an almost curiosity about what will happen after life.
"There's a little section in the middle where we go muted and the piano goes up," Quante said.
"There's even a dirge, a funeral march, before it starts going up," Fukuda said.
"In the dirge, there's a very persistent quarter-note rhythm that leads, and then there's a very vaporous melodic line. And it's open, it's very open," Taubl said. obsessive."
"From a spring morning" represents an awakening.
"I see it right now: the birds on my property making nests; they fight for territory. You feel this whole bubble of light," Quante said. "So for me, the contrast between the two is just contemplating death and what happens after, and then contemplating what life is like in the springtime in this world. I just like to hear both sides.
"What incredible women," Quante said. "It's like they changed the way people see women in music."
Fauré (1845-1924) was one of the greatest composers of all time and was director of the Paris Conservatory during the formative years of Boulanger and Chaminade. (Boulanger attended, but Chaminade's father would not allow it; instead, she was tutored by professors from the Conservatoire.)
"I love that he was their mentor," Quante said, "to have his piece at the end of this program to share where he comes from."
When Fauré was born, Chopin was composing and, at the time of his death, jazz and atonal music were being played. His Piano Trio No. 1, Op. 120, was created in 1923, to which the Parisian newspaper Comoedia replied, "a beautiful work which enriches the repertoire of chamber music".
"It's so lush and beautiful and has this energy. It's beautiful but dark," Fukuda said. .
"String writing can be so seamless you don't even know it. There is so much unison," Taubl added.
"How can you be a band and still have your own voices?" she says. "It's a delicate balance."
"It's so magical," Quante concluded.
The Trio Champlain is a child of the COVID-19 pandemic. When Taubl was asked to bring a chamber music concert (which had to be canceled) to Kendal in Hanover, New Hampshire's tony retirement community, in March 2020, she asked Quante and Fukuda to join her. Since their fall 2021 performances and holiday candlelight concert in December, they've been hard at work rehearsing, planning future concerts and educational programs, and more.
"We rehearse twice a week every week – I think we've come a long way," Taubl said. "We are getting somewhere. We are able to pull the colors we are trying to find.
Do they still play together?
"Oh my God!" Quante exclaimed with a big smile.
jim.lowe@timesargus.com / jim.lowe@rutlandherald.com