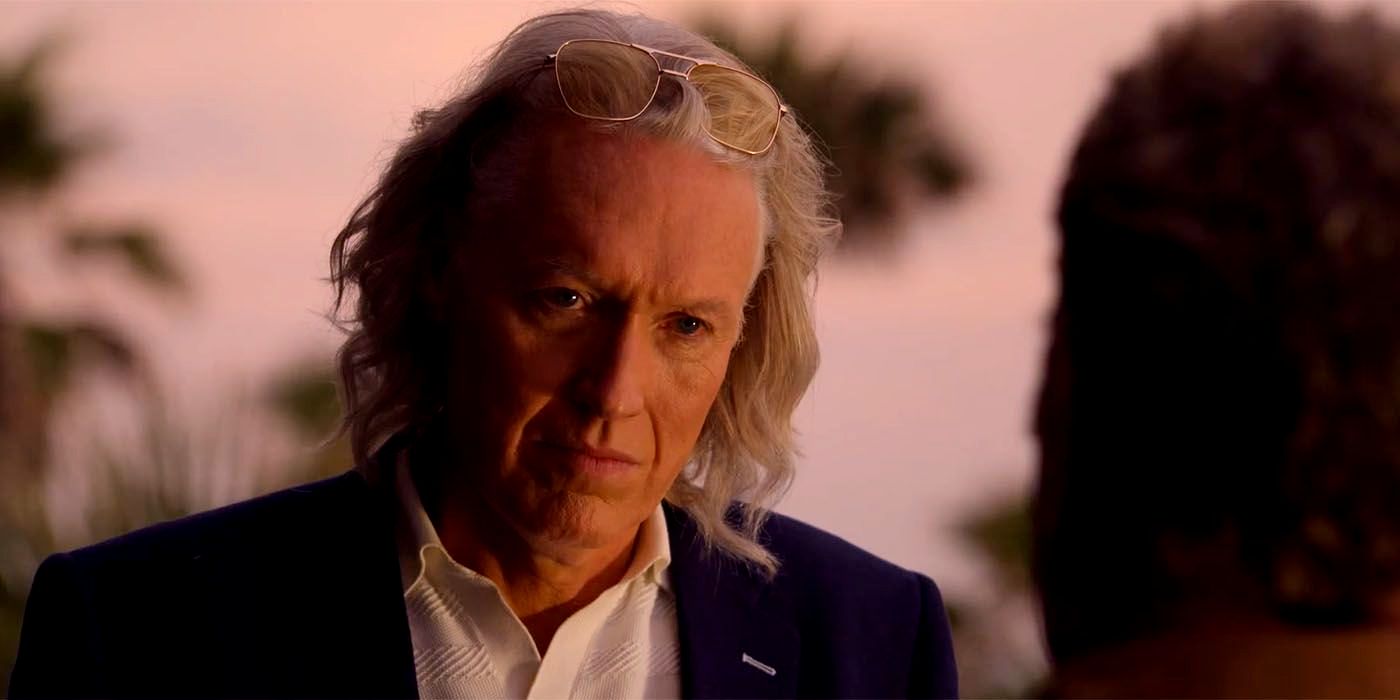 Cobra Kai Composers on Creating a Villain Score for Terry Silver's Return
Cobra Kai composers open up about creating a villain score for Terry Silver's return and attempt to tap into his '80s villain through classical music.
Cobra KaiThe composers talked about creating a score for Terry Silver's return that effectively taps into his '80s villain persona. Cobra Kai is a Netflix original series and a spin-off from the Karate Kid franchise. The series is set 34 years after the events of the 1984 All-Valley Karate Tournament and follows Johnny Lawrence (William Zabka) and Daniel LaRusso (Ralph Macchio) when their old feud is sparked by Lawrence's reopening of Cobra Kai. Cobra Kai successfully brought back many originals Karate Kid franchise stars, such as Macchio, Zabka, Martin Kove and Yuji Okumoto, to reprise their roles. More recently, Cobra Kai season 4 saw Thomas Ian Griffith resume his Karate Kid 3 Silver role.
Griffith's return in season 4 proved successful, as the season topped the Netflix charts for a time and received largely positive reception. Viewers were thrilled to find a villain who was perhaps even badder than the notorious John Kreese (Kove). What Griffith brought to the series was a multi-layered villain who remained quite elusive until his evil plan fell into place at the end. Silver created a formidable villain whose return definitely required his own unique musical palette.
Related: Cobra Kai: Why Miguel Was Always Going To Lose The Season 4 Tournament
In an interview with Movie Slash, Cobra KaiThe composers of , Zach Robinson and Leo Birenberg, talked about creating a wicked score for Silver. The composers explained that they try to give each character their own theme. Silver's return definitely shook things up and necessitated a subtle return to classical music from Karate Kid III. However, since Silver's character evolved into Cobra Kai, this forced them to create a more modern Silver theme. While they are still working on creating its full theme, it involves a lot of harmony between classical music and more modern music, like electric guitars. Their main goal through Silver's theme is to tap into his '80s villain vibe. Check out the songwriters' statement below:
Birenberg: One of the biggest changes in Season 4 is the return of Terry Silver, who is in many ways one of the most infamous and evil villains of '80s film lore. I feel like his screen presence is just some kind of legend. Like most things with "Cobra Kai," they tend to flip these characters and cast them in shades of gray. So there's this startup sound of ["The Karate Kid Part III"] it's very classic. And we kind of had to decide, how are we going to reinterpret this palette? And then how are we going to evolve the character of Terry in 2022, and what does this modern palette look like?

Robinson: Well, that's partly because we knew we wanted to take the classical influence because that's Terry's sound, which was established. But with everything on this show, how do we shoot it? So the first scene, we knew we wanted to have our own Terry theme, which is what we're allowed to do in this series. Sometimes we use Conti stuff, but all of these characters have their own themes, so Terry was no exception. The first time Terry enters the dojo in Episode 3 with Kreese is the first time you hear Terry's new theme. You actually hear it on slow strings, but then you hear it on guitar. That's sort of where the "Cobra Kai" comes in, and we have a lot more to say about Terry musically. And I know the show has a lot more to say about Terry and his story, so we haven't fully unleashed the Terry Silver sound. It was like a prelude to what we imagine is Terry's ultimate sound. But we added electric guitars. We integrated it more into the orchestra, and we had other classical forms.
Robinson and Birenberg evoke a very intriguing discussion of the subtle, yet powerful, role that music plays in Cobra Kai. In Season 1, much of the music is more heavy metal and caters to Lawrence's specific tastes. Season 2's music becomes more mystical and reminiscent of Pat Morita's presence as LaRusso dives into Miyagi-Do. Season 3 explores Japanese and Vietnamese music as LaRusso travels to Okinawa and Kreese reminisces about his wartime days. In season 4, Silver's return was really the major story event, and it made sense to return to the classical music of Karate Kid 3. However, his return and the creation of multiple layers to his character in Cobra Kai definitely needed more of a perk to add to his villain score.
In Karate Kid 3, The original score for Silver's villain was created by American composer Bill Conti. In Cobra KaiRobinson and Birenberg have the task of respecting the original composers of Karate Kid and to adapt the music to new and evolved characters. This effective intersection of past and present is seen very effectively in their creation of a villain score for Silver. Classical music takes viewers back to his 80s villain, but the addition of more modern sounds means he's an old villain with a new twist. With Cobra Kai with season 5 confirmed and Robinson and Birenberg confirming they have more to say about Silver musically, the reveal of his full villain score can be anticipated.
More: Cobra Kai May End Tory And Sam's Feud And Establish A New Rivalry In Season 5
Source: Movie Slash
The Arrowverse Just Made A Perfect DCEU Movie Even More Unlikely
About the Author